Using 3D Technology to Engage Learners
April 20 @ 2:30 pm

-

3:30 pm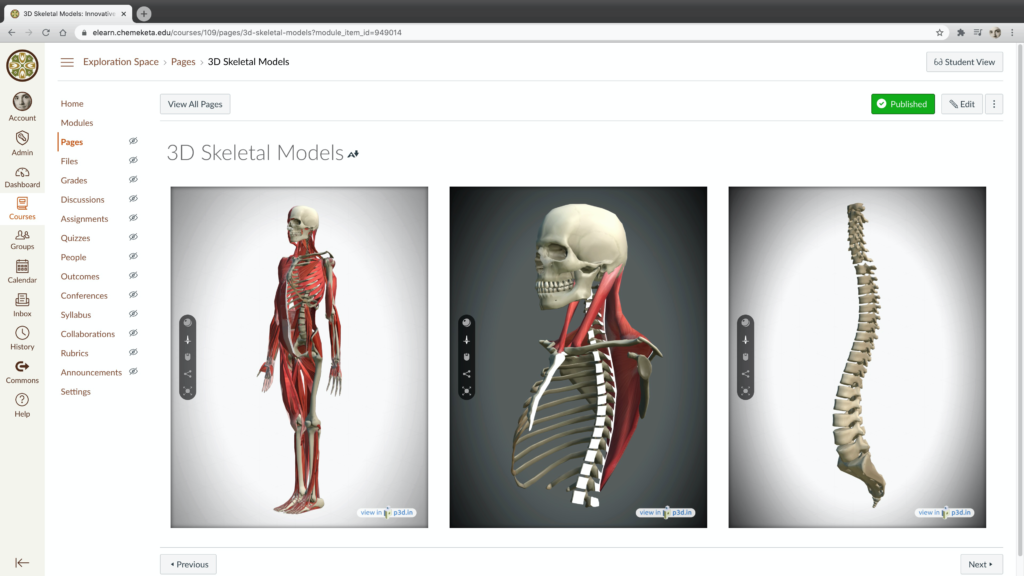 CRN: 78072
Term: Spring 2021 (register at My Chemeketa)
Zoom Meeting: https://chemeketa.zoom.us/j/91958723139
Join us for a multi-dimensional workshop on integrating 3D models and objects into Canvas to engage with student learning. Discover online interactive content, media and technology that instructors can use to engage learners in their Canvas courses.
There are many instructional use cases for using 3D models. They can be used to enable the visualization and manipulation of small objects like atoms, cells, and enzymes. 3D scanning technology can be used to create your own 3D models from real world objects. Students in visual arts can create 3D sculptures while students in machine technology can inspect models that are accurate.
Session Audience:
This is a beginner level workshop for instructors curious about integrating 3D technology into their Canvas courses. Instructors seeking ideas to present learning materials in alternative ways to engage learners will also benefit from attending.
Session Outcomes:
Identify key concepts for using 3D Technology to engage learners
Locate online resources for access to 3D objects, models, scenes
Embed 3D objects and 360 video content in Canvas using the Rich Content Editor
Increase awareness and understanding of how 3D Technology is used in higher education