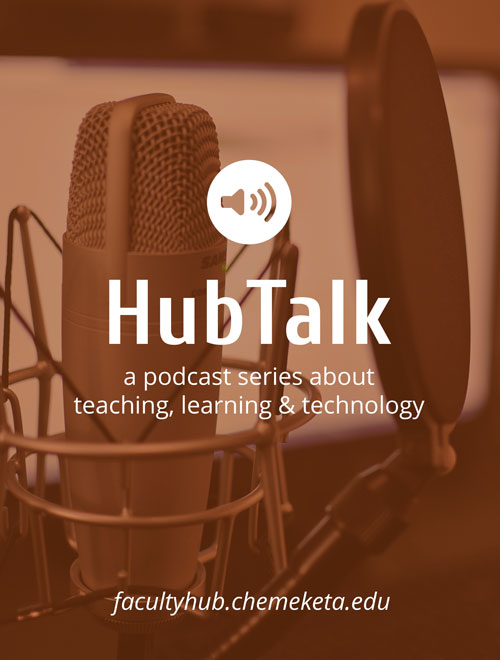 Hub Talk, a podcast about teaching, learning, and technology, is being relaunched with the introduction of the Center for Academic Innovation. As a hub for all Chemeketa faculty and staff, the Center for Academic Innovation will provide resources, training, workshops, and much more, and this podcast will serve not only as one of those resources, but will also be a platform for sharing and spotlighting interesting and relevant news, research, and updates. The show will feature discussions and interviews with Chemeketa faculty, staff, and students, and focus on various topics relevant to higher education ranging from emerging technology to best practices in online, hybrid, and face-to-face instruction.
Episodes currently in the works include an introduction to accessibility with our Accessibility Advocate, Heather Mariger, and a student sharing his story and the importance of accessible course materials. We will also be interviewing some of our faculty presenters at this year's Tech Fair, exploring some new and innovative ways they are incorporating technology into the classroom. Rounding out our lineup for Fall 2018, we will be following an instructor along her journey with e-portfolios.
Along with the content we already have planned to share with campus, we will also be inviting Chemeketa faculty and staff to share their ideas for episodes. If you are doing some exciting new research, have a great resource to share, or simply want to highlight your work in a new way, please reach out to us so we can include you on our podcast.
We will also occasionally call for feedback, input, or contributions for stories we are putting together. For example, there are plenty of faculty and students alike who are not exactly comfortable using technology, so we thought it would be interesting to share stories of technology bloopers – experiences when technology went wrong or simply failed you in some way. Even the most tech-savvy among us undoubtedly has dealt with the occasional technology fail, and we would love to hear yours!
Hub Talk will be hosted on our new website, facultyhub.chemeketa.edu and will be updated with new episodes frequently. Again, please contact us if you have ideas for future episodes or would like to be featured yourself. Looking forward to talking with you!