Do you have a document or other text that is not working the way you want? If you are copying and pasting text across documents or sources, it may be bringing unwanted code or formatting with it. 
Luckily, we have a solution! 
HTMLg editor and code cleaner
HTMLg is ideal for cleaning up unwanted formatting from web pages or files for a clean and more accessible way to transfer content from one location to another with minimal effort. Despite the name, HTMLg is not just for web pages, it can help give all of your documents and files a professional finish. 
HTMLg can be used to…
Copy content cleanly to and from file formats (e.g. Microsoft Word, Google Documents, and Canvas).
Remove old formatting

(such as font styles and sizes, off-colors, and other inaccessible content) to clean up the look of your content without removing important structure items like Headings, Bold, Italics and Lists.

Repair broken HTML

and other misbehaving code 
To use HTMLg…
Open up your source document for

editing
Highlight

and

Copy

your content.

Open up the

HTMLg site

in a new tab or window

Paste

the copied content into the (left)

visual

column of HTMLg

Click the Clean button in the bottom-right corner of the page
Highlight

and

Copy

your cleaned content from the (left)

visual

column of HTMLg

Return to your document

Paste

the cleaned content

over

the old (or into a new document) and save your changes.
OPTIONAL: you can also fine tune what is cleaned up from the advanced options at the bottom of the page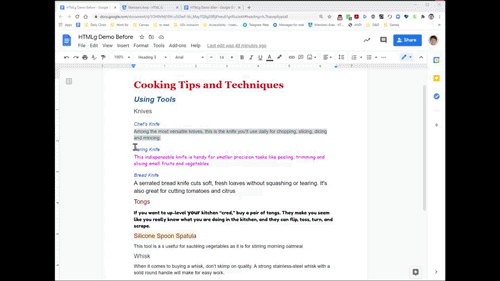 Save our HTMLg member link to your bookmarks for easy access – and be sure to tell your colleagues…
This tool is brought to you by the Oregon Community College Distance Learning Association (OCCDLA).  OCCDLA has also helped Chemeketa to take advantage of a number of useful tools including; Zoom, Kaltura, Films on Demand and Ally.
Note: The link for HTMLg has been updated for the 2021-22 School Year.