Our physical space has been recently renovated to offer a variety of settings.  We have small informal work spaces, computer stations, areas for conversations supported by technology and a training room for groups of up to 20 people.  
Walking In
Salem Campus Building 9, Room 106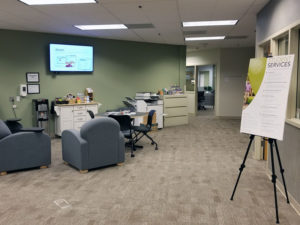 As you walk into Building 9 Room 106, you'll find a staff to welcome you to the Center for Academic Innovation.  They'll provide information as to where to find resources and can assist with the hospitality center coffee service.  You'll also find the first of the informal meeting spaces. The space will be used for "lunch and learns," "Appy hour."
Tech Hub
Salem Campus Building 9, Room 126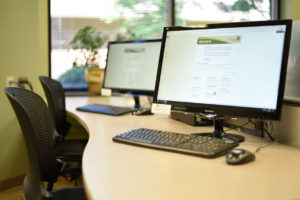 As you continue back into room 126 you'll find a smaller informal meeting space for faculty consults as well as our well-known technology hub.  The Tech Hub is a faculty development center that provides college-wide instructional support  for elearning and academic technologies used to support teaching and learning. With six PCs, two macs, and equipment like web cams and iPads for check out, the lab is well equipped to help faculty meet their needs.
Chemeketa's faculty can stop by the Tech Hub for help at any time 9am-5pm, Monday through Friday, getting direct attention from the Tech Hub Faculty with pedagogy, Canvas help and many other services.
Training and Conference Room
Salem Campus Building 9, Room 127
Finally, you can continue back to room 127 which is designed to be a comfortable, yet functional training space for groups of up to 20 people.  The training room includes a large screen computer with conferencing abilities. The space will frequently be used for technology workshops, committee meetings and other campus driven initiative planning sessions.
Soundbooth
Salem Campus Building 9, Room 127A
We have a sound-proof room with a computer, microphone and webcam to aid you in creating screencasts and audio recordings.  You can reserve the soundbooth by getting in touch with one of our staff or faculty.