Syllabus Templates, Samples and Checklist
Syllabus Checklist
The syllabus checklist includes all of the items that are required in your syllabus, as well as recommended and optional items.
Syllabus Templates and Samples
Face to Face Classes
Hybrid Classes
Online Classes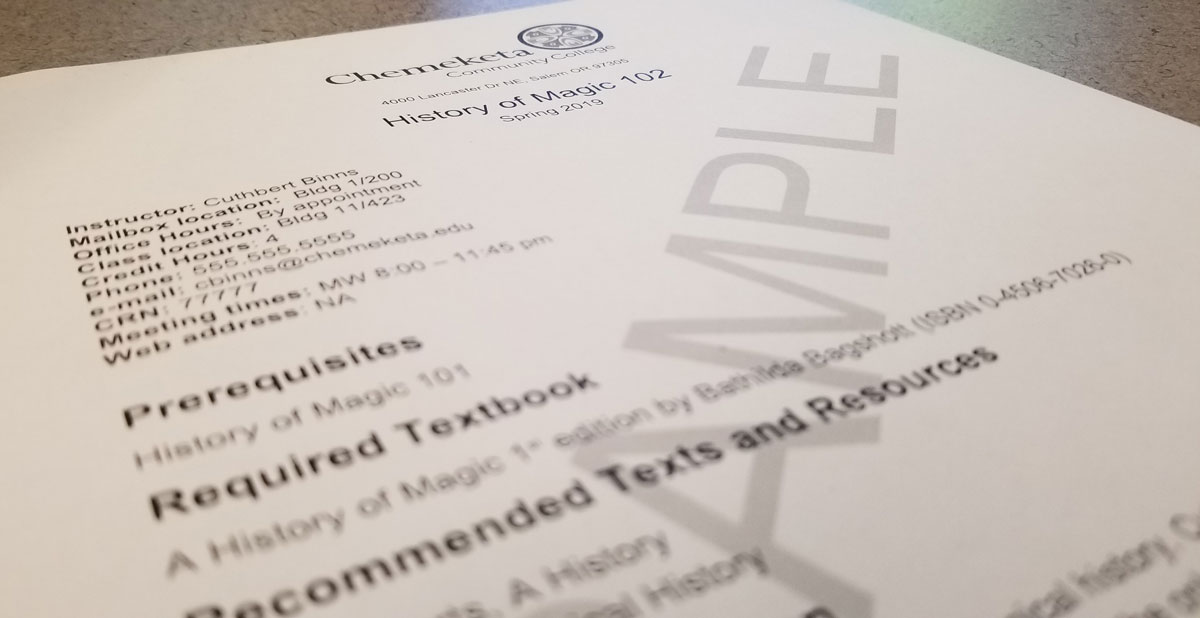 COVID-19 Protocols for Winter 2022 Syllabi
To ensure that expectations are clear to students regarding COVID-19 protocols, please include the statement below in your syllabus. Feel free to add additional information relevant to your specific class. Note: Faculty may restrict any eating and drinking within their own classrooms.
If a student does not comply with the mask mandate, Public Safety can be contacted to assist (503-399-5023) and a Student Concern Report should be filed as soon as possible.
Students participating in in-person classes must adhere to Chemeketa's protocols. Masks are required to be worn correctly indoors at all times, unless one is actively eating/drinking, and outdoors when physical distancing is not possible. Face coverings must cover the nose and mouth and be snug fitting.

  

The college requires that all students and staff conduct a health assessment before coming on campus. Stay home if ill. If unsure about your symptoms, use the CDC's COVID-19 Self-Checker to help you make decisions about seeking appropriate medical care. Notify your instructor if you are sick or if someone you have been exposed to has been diagnosed with COVID-19 and complete the Staff/Student COVID-19 Questionnaire.
The Emergency and Risk Management Team has created a script for faculty to read to students during the first in-person class session. The highlighted text may be updated to be applicable to your specific class. Feel free to make a copy of the file and edit for your own use.
Resource Links Available to Students & Staff
Disclosure Statement for Recording Synchronous Instruction
Instructors should include the Disclosure Statement for Recording during Synchronous Instruction in their course syllabi.
With the switch to remote instruction in the spring of 2020 and the use of video conferencing for class meetings, syllabi need to include a disclosure statement alerting students to their right to not have their image, voice, questions or comments recorded.
Below is a sample disclosure statement to include in any syllabus for a course that will include recordings of remote class meetings:
I will be recording our class sessions and making the recording available on our course site on eLearn. This will be both an audio and a visual recording.

This means:

if you participate with your video on or use a profile picture, you are agreeing to have your video and/or image recorded.
if you participate by speaking, you are agreeing to have your voice recorded.
if you participate by making comments in the chat feature, you are agreeing to have your name and comments recorded.

If you do not want your profile or video image recorded, turn off your video and remove your profile image. If you do not want your voice recorded, mute your microphone. If you do not want your name and comment(s) recorded, do not use the chat feature.

If you are unable to communicate with me during the class meeting due to your wish not to be recorded, please contact me to make other arrangements.