Aim for Accessibility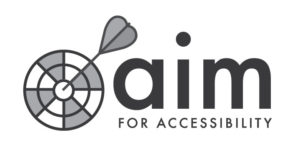 Creating accessible documents and learning materials doesn't require high tech skills or specialized programs. In fact, many of the techniques we recommend make it easier to style and design course materials.
By following these simple suggestions, we can make our course materials easier to use and understand for all students.
Like our dartboard, the goal is to bring these segments together for full accessibility. But, like darts, we start by getting on the board – and every point helps. There are many different approaches to accessibility – we can work on one segment or one document at at time – each effort bringing us closer to the bullseye. And remember, no one has to do it alone…
We are here to help!
The Center for Academic Innovation has resources, workshops and staff to help and support Chemeketa's accessible design efforts.  
Visit us on the Salem campus building 9/106 or call 503.399.7832 to learn more
Ready Aim Access!
Tech Hub Website
The old Tech Hub website also has a lot of resources to help you as Faculty of Chemeketa.  Over the course of the next year, we'll be moving over resources from the Tech Hub website to this website.  In the mean time, you might want to take a look at what's still available over there.
Web Accessibility Guidelines
Chemeketa's Web Accessibility Guidelines are based on the internationally accepted Web Content Accessibility Guidelines AA standards (WCAG 2.0) published by the W3C World Wide Web Consortium (W3C).
Best Practices
Chemeketa Community College is committed to providing exceptional learning opportunities to all students, including those with disabilities. Faculty are required by law to make their online course content accessible to all students.
Adhering to Web Accessibility Guidelines and Best Practices while developing your online course content will benefit all students including those with visual, hearing, mobility and learning disabilities.
Web Accessibility Guidelines
Apply these guidelines to your content within your Blackboard courses and faculty websites.