Grackle Accessibility Checker for Google Suites
The Grackle Suite is a set of tools that can be added on to Google Docs, Sheets and Slides to help identify accessibility issues and walk you through fixing them. Grackle can also help you to create accessible PDFs from your Google Docs and Slides and HTML from Google Sheets – something that is not possible using the built in tools in Google Suites.
This tool will be able to check your document for properly formatted:
Headings
Lists
Links
Images
Color Contrast
Font sizes
and more!
When enabled Grackle Docs opens as a pane on the right side of the screen. It will identify errors with a red check mark and identify formats that are okay with a green check mark. If you click on an item in the list, it will locate the error in the document and help you to fix it.
Remember:
You are much smarter than the automated checker so you should always check the document yourself to make sure that it is accessible and correct.
Installing Grackle
Grackle must be installed separately for Google Docs, Sheets and Slides. However, the process remains the same:
Select the Add-ons tab – this will open a pull down menu
Select get add-ons from the list
A pop-up window for the G Suite Marketplace will open on your screen
Use the search box at the top of the window to search for Grackle (docs, sheets or slides)
Select Grackle from the search results
Select Install
Select continue and follow the prompts to allow it to install on your Chemeketa Account.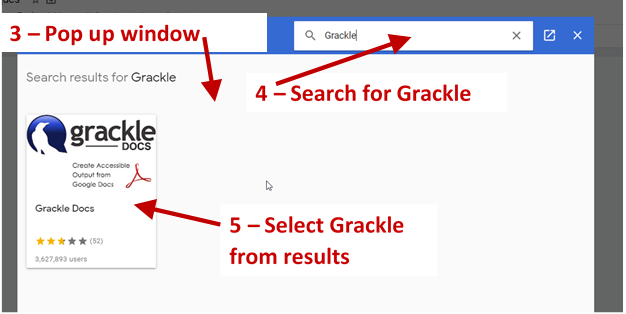 Using Grackle
Select the Add-ons tab – this will open a pull down menu
Select Grackle (Docs, Sheets or Slides) from the list
Select Launch from the sub menu
A panel to the right of the screen will open and start to check the accessibility of your document
Any accessibility issues will show a Red X
Select the issue and it will expand to provide more information – From here you can locate, the problem and the tool will help you fix it
Use the Recheck Button to check your work.
Use the Document Structure Tab to check heading hierarchy and reading order of your document
Use the PDF Button to create an accessible PDF once you have made the Document Accessible