Our Fall Blast Survey sought feedback on faculty support for remote teaching.  The results underscored the tremendous workload faculty underwent in transitioning to Canvas as well as using new technologies for remote instruction. We loved reading words of appreciation for the support our staff provides, and we are glad to have helped! Still, it was clear that instructors encountered some barriers to getting the right support they needed.
Feedback
Most Used The majority of respondents found help through virtual office hours and our online, self-paced learning materials. Workshops were the next most frequently identified resource.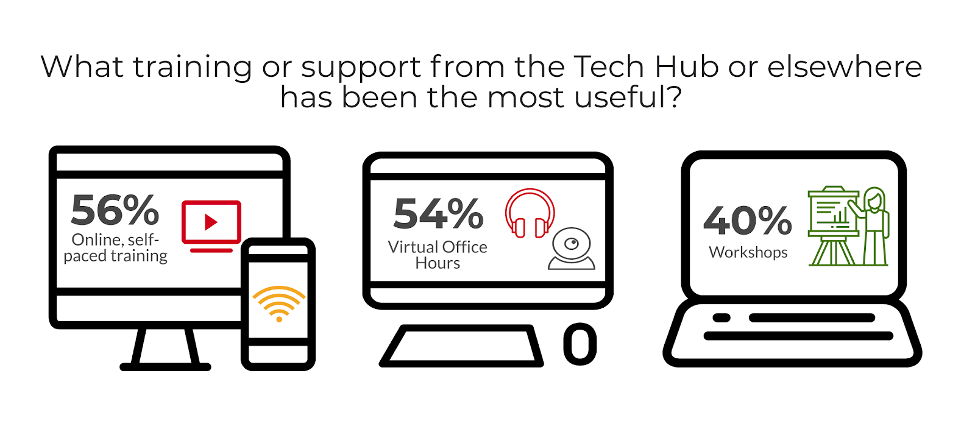 Common Barriers  Nearly half of the respondents identified scheduling as their primary barrier to accessing support. They requested longer, more frequent, or alternative times for virtual office hours. Additionally, respondents identified their general workload prevented them from seeking help.
Lastly, difficulty locating support hampered instructors' access to the support that is available. Some respondents had trouble identifying the right resource with multiple online portals. Others were frustrated with finding telephone or virtual office hour access information.
Respondents also identified additional training they need to be more effective, such as teaching with Zoom and refining their use of Canvas tools.

Follow-Up
During Winter term, we're responding to faculty needs in new ways.  
Workshops  In addition to CAI workshops on Zoom and Canvas, we're offering training in "special topics" like creative uses for breakout rooms, engaging remote learners, and Google Jamboards. Canvas workshops include online facilitation, gradebook, and learning outcomes assessment. We are also striving to offer these workshops at times more amenable to faculty schedules, such as late afternoon and early evening. Other formats are being explored, such as intensive 'boot camps' during breaks.
Support Resources  The CAI website will undergo a revision to improve navigation, making support resources easier to locate. We are working with other stakeholders at Chemeketa to simplify and clarify online locations for faculty resources and calendars for professional development. Faculty support is currently available via telephone, email and during our virtual office hours on Zoom. We're exploring ways to offer more scheduling and virtual support  options, and plan to announce those additions soon. 
Thank you for taking the time to share your feedback with us. While we hope we've responded effectively to your needs, some issues are more challenging than others, so trust that we are listening and working to identify solutions.